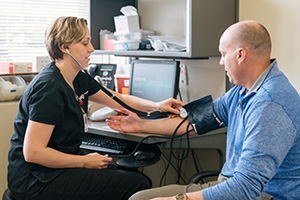 Who Can Donate Whole Blood?
Anyone who is in good health, weighs at least 110 pounds, is at least 18 years old (or 16 years old with a signed parental permission slip), and meets the screening requirements may donate whole blood every 56 days.
Questions About Eligibility
Some health conditions, travel locations, or behaviors may temporarily or permanently prevent a person from donating blood. For more information on donor qualifications, click here. If you have a question regarding your eligibility to donate blood, please contact ARUP Blood Services at 801-584-5272.
Volunteer Donors Only
ARUP Blood Services relies solely on volunteer donors to supply its blood. Community volunteers have proven to be the safest source for blood that is used for transfusions. Therefore, to ensure the safety of our blood recipients, ARUP Blood Services does not pay for any of its blood donations. This helps eliminate motivation for donors to be less than honest during the screening process.
You may be familiar with people being paid for plasma donations at a plasma center. This blood is not used in patient transfusions. It is used as a raw material to make some pharmaceutical and cosmetic products. Blood used directly in patient transfusions must be given on a volunteer basis.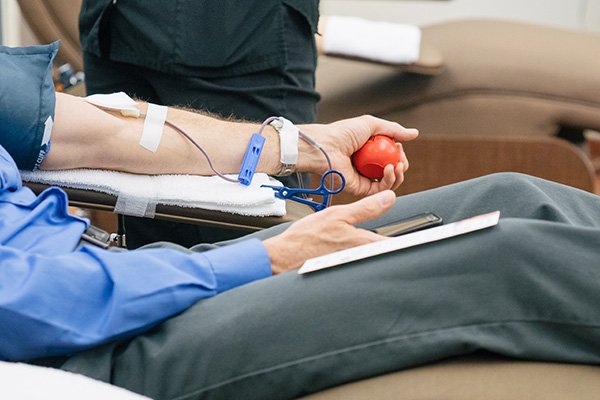 The Process: What to Expect as a First-time Donor
Donating blood is a quick, step-by-step process that takes less than an hour.
Step 1: Schedule an Appointment
You can schedule an appointment at either a local blood drive or at an ARUP Blood Services' Donor Center. The average blood donation process takes less than one hour from start to finish, but the needle is in your arm only 6–10 minutes.
Step 2: Register
Simply come at your appointed time, present a picture identification, read the important information that is presented to you at the registration desk, and complete a registration form. (If you are 16 years old, you will need to present a signed parental permission slip as well.)
Step 3: Complete Medical Screening
A blood center technician will take your vital signs, check your hematocrit (iron) level, and ask you questions about your general medical health and lifestyle in a private setting. The U.S. Food and Drug Administration (FDA) has established stringent guidelines that all donors must meet. Therefore, during this process, you may be temporarily or permanently deferred. All information remains confidential.
Step 4: Donate Blood
A medical professional will clean your arm and use a sterile needle. Each needle is used only once and then discarded. The needle will be in your arm for about 6–10 minute.
Step 5: Relax at the Canteen
After you have donated, you will be offered refreshments, including juice, cookies, and other snacks, to raise your blood sugar and replenish your fluids.
Step 6: Donate Again!
You may give the gift of life by donating whole blood as often as every 56 days.