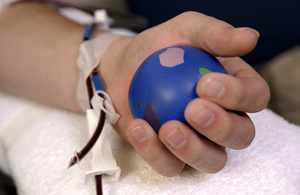 Organizing a blood drive is a great way to serve your community and help save lives. Your blood drive can be at a company, school, church, community organization, or public event.
To organize a blood drive, you will need to:
Contact an ARUP community relations representative by phone at 801-583-2787 ext. 2639 or email deborah.jordan@aruplab.com.
Pick a date. ARUP schedules events two to three months in advance, so please schedule your event with us as soon as possible. Summer and winter seasons have the more available openings, and will help us out a great deal.
Get at least 35 people to sign up as being interested in donating.
Secure an acceptable location — either a place for our bloodmobile to park, or an adequate area indoors along with some tables and chairs.
Spread the word by distributing marketing materials (which are provided by ARUP Blood Services) and by personally inviting your friends, family, and colleagues to the drive.
Have a representative available to help with logistics on the day of the drive. ARUP Blood Services will deliver the marketing materials to you approximately three weeks before the drive begins. We provide all the necessary equipment and staffing of the drive; but, we always appreciate a few extra volunteers to help out during the drive.
Frequently Asked Questions about Organizing a Blood Drive
When can I schedule a date for our blood drive?
Call now! If your organization is interested in blood donation and community service, contact the ARUP Blood Services recruitment team to schedule a date. The number is
801-583-2787 ext. 2639
or email
deborah.jordan@aruplab.com
. Blood drives are usually scheduled two or more months in advance, but we may have an earlier opening on our calendar.
How many donors do I need to have a blood drive?
Keeping in mind less than 4% of eligible donors choose to donate, participation at your blood drive will depend on the size of your company, school, church, community organization, or public event. To responsibly maximize our resources, we request a minimum of 25 to 30 committed donors.
What is a "committed donor"?
A committed donor is someone who has read our donor qualifications and has signed up to donate at the drive.
Why do I need to get advance commitments from donors?
We have learned that an advanced commitment from donors usually ensures they will participate. Sign-ups give us a more accurate estimate of participation, which helps us staff and equip your blood drive adequately and make the most efficient use of limited resources. Advance commitments also help us ensure an adequate supply of blood for patients in your community. Many surgeries and procedures are scheduled around our blood drive projections. Knowing in advance what your drive's participation will be helps medical staff schedule these important medical procedures.
How do I get people to sign up?
Don't be shy — ask them! The main reason people don't donate blood is they have not been asked. Another option is to form a committee and have each person recruit a certain number of donors. Tell potential donors that each donation can save as many as three lives. Also, if this drive is going to take place at work, make sure you have the support of upper management so your donors may give on company time.
How long does it take to donate?
Allow 45 to 60 minutes for the entire screening and collection process. The needle itself is in the arm for about 6–10 minutes.
Almost anyone in good health (no cold or flu symptoms) who weighs 110 pounds or more and is 18 years or older may donate blood. Those age 16 may also give with an ARUP Blood Services permission slip signed by a parent or legal guardian. Some medications, medical conditions, or risk factors may be a basis for deferral. We encourage all donors to eat and drink plenty of fluids before donating. For more information on blood donor qualifications, visit our
Donor Qualifications
page or call 801-584-5272.
How badly is blood needed?
Blood supplies can vary depending on the region and time of year. As donor qualifications continue to become more strict and as the donor population ages, our nation is at risk of a low blood supply. If you are eligible, your blood donations are needed. Please help our community meet our patients' needs.
What if I have more questions?
Please contact ARUP Blood Services by phone at
801-583-2787 ext. 2639
or email
deborah.jordan@aruplab.com
. We will help you with the planning and promotion to help make your drive the best it can be.